Brief History of the Moriches Bay Historical Society
1965 February 11, Sarah Margaret Havens (daughter of John Scudder Havens), last living heir, passes away, leaving no will
1965, Robert Halsey Pelletreau (1908-1999) first cousin of Sarah Margaret, inherits the property and uses it as a hunting lodge before attempting to sell the property. The finds from an archaeological dig inhibited the sale
1965 August 5, Silver objects discovered by Robert H. Pelletreau inside Havens Homestead displayed at Bellport
1966, Moriches Bay Historical Society chartered by State Board of Regents in response to threats to the John Scudder Havens and Mary Pelletreau Havens Homestead
1967 February 12, Site given by Pelletreau for Havens House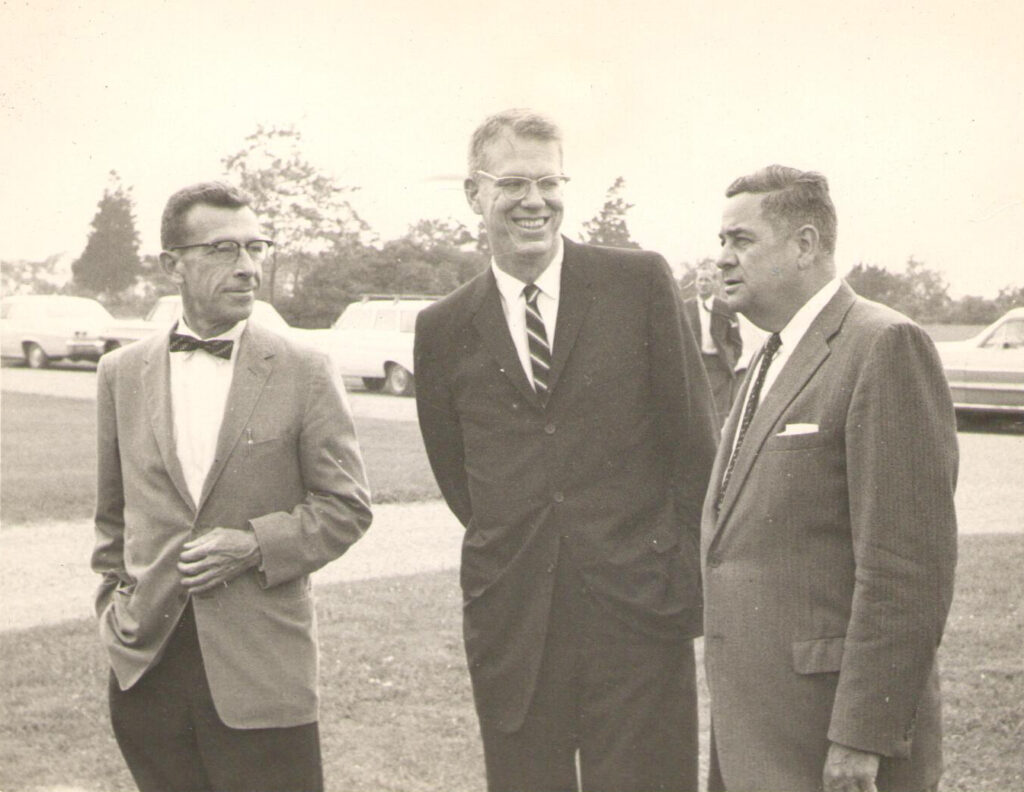 1967 November 14, Letter(s) from Robert H. Pelletreau, Esq to August Stout Jr, former Brookhaven Town supervisor, clarifying gift of the homestead to MBHS
1969 July, Havens Homestead featured in Long Island Landmarks by New York State Office of Planning Coordination
1971 February 18, Relocated Havens house across Montauk Highway to land historically owned by the Havens family, rotated 180 degrees
1973 March 29, Organization issued tax-exempt status from New York State
1974 May/June, 'The Archibald Havens Papers,' article by Barrington S. Havens published in the Long Island Forum, based on a manuscript in the possession of Robert H. Pelletreau, Patchogue, N.Y.
1974 December 11, Robert H. Pelletreau, cousin and heir to the estate gifted the Homestead to stewards in a ceremonial dedication
1975, 'The Havens family in Suffolk County, New York: a genealogical survey of some of the descendants of William S. Havens, 17th century settler in Aquidneck, Rhode Island' by Barrington S. Havens
1976 April, 'The Five Captains,' article by Barrington S. Havens published in the Long Island Forum, describes Captain William Havens
1978 June 4, August Stout Jr, Founder of the Moriches Bay Historical Society and former Brookhaven Town Supervisor, dies
1986 July 22, Suffolk County Legislative Resolution 762-1986 is approved, authorizing the acquisition of the 260.5-acre Terrell River site under the Open Space Acquisition Program.
1987, Site undergoes archaeology, Oak Tree Bay Development Area, Dr. Kent Lightfoot, Dr. Randolph Donahue, Dr. James Moore, and Susan D. Grzybowski (The Archaeological Investigation of the Oak Tree Bay Development, East Moriches, Long Island. Ms. on file, Division of Environmental Protection, Brookhaven Township, Long Island, New York)
1987 September, Oak Tree Bay Archaeology Report, preliminary, Dr. Kent G. Lightfoot
1988 April 19, Conveyed by deed to Oak Tree Associates
1988 October 31, Wetlands declaration by Oak Tree Bay Development Corp.
1989 July 26, Remainder of land purchased by Suffolk County Department of Parks, made the property a nature preserve in perpetuity, known as Terrell River County Park Preserve
1989 December, Application (blue form) for Brookhaven Town historic landmark designation for John Havens Estate/Terrell River County Park Preserve
1990 April 28, Harry W. Huson, prominent community figure and MBHS founder, dies
1994 August 26, SC Dept. of Parks, Environmental Assessment Form
1994, Haven-on-Earth Site Survey and Management Report
1995, 'Comprehensive Plan for the Preservation and Use of the Suffolk County Havens' Estate Parkland'
1995 June, Havens Estate Archaeological District resource evaluation
1995 June 30, Letter from John Auwaerter, Program Analyst, Field Services Bureau to Bertram Seides
1998 Spring, History of the Havens Estate article by Edward P. Romaine published in the Long Island Forum
1998, Tuttle Barn donated by Vernon, Ray & Emery Tuttle (Duck Farm Feed Barn, Eastport)
1999 September 4, Robert Halsey Pelletreau dies
2001 August 30, Push to save Patchogue Canfield House, at one time under ownership of John Scudder Havens
2001, Moriches Bay Audubon Society designated as the steward of Terrell River County Park Preserve
2009 June, 'Report of the Site Visit to Moriches Bay Historical Society' by American Association of Museums
2011 October 27, Diane Capone resigns as President of MBHS, Bertram Seides becomes President
2012, Bertram Seides elected President of Moriches Bay Historical Society
2012, Survey of the Havens Homestead property completed (Kenneth M. Woychuk L.S.)
2012/13, Fence installed
2013 May 9, Ongoing correspondence with Robert H. Pelletreau Jr, son of Robert Halsey Pelletreau
2013 June, Havens Homestead is opened to public as a historic house museum
2015 September 30, Landmark status granted to John Scudder and Mary Pelletreau Havens Homestead by Brookhaven Town
2016 March 16, Havens Homestead Resource Evaluation established criteria and statement of significance
2016 May 3, NYSOPRHP Jennifer Betsworth, field rep to visit Ketcham Inn, Havens Homestead, Havens Estate, Mary E. Bell House, Woodlawn and The Moriches Cultural Heritage Area. State Register applications pending
2016 May 24, Jennifer Betsworth correspondence establishing criteria for State Register of Historic Places nomination
2019 October 7, 19th century Pelletreau family letters acquired from Mrs. Hudson's Fine Books and Paper, Cold Spring, NY
2020 January 30, New metal roof for Museum Shop donated by the Kanas Family Foundation
2020 October 10-11, Civil War reenactment
2021, Havens Homestead roof restoration project completed. Funded by the Kanas Family Foundation, Robert David Lion Gardiner Foundation, and members of the public via GoFundMe campaign
2022, Cornell Cooperative Extension, Suffolk County, Master Gardener program. Coordinated by Master Gardener Dr. Jane Corrarino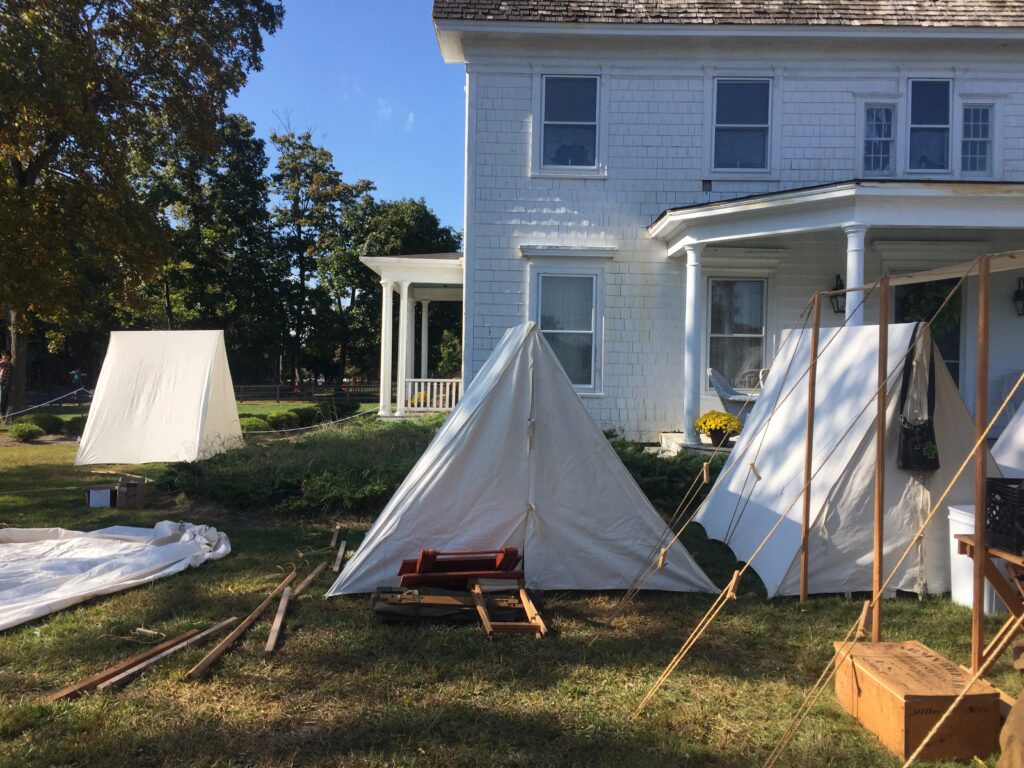 2020